Skip over navigation
The official government website for McCordsville, Indiana
Start Content
Planning and Building Department
The McCordsville Planning & Building Department is responsible for all planning, zoning, and building services for properties within the incorporated limits of the Town of McCordsville. For a map of the incorporated limits and zoning of the Town of McCordsville, click
here
.
Permit Applications and Procedures
McCordsville's Planning & Building Dept. is using iWorQ for permit management and only accepts electronic filings and applications through the on-line system. You will begin by creating an iWorQ username and password or by logging in and filling out the appropriate application.
Complete the application and attach the plans required for each project. Click on this Permit Guide, which will give detailed information about each permit type and when a permit is required.
Did you see this sign?
This sign indicates that a property owner has applied for rezoning or a variance.
Click on the Case Number below for additional information about the project and the hearing date.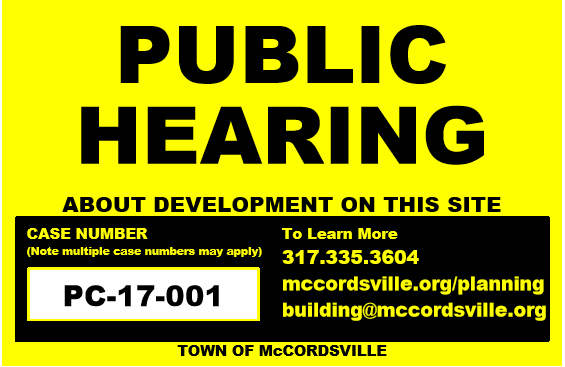 Current Case Numbers - Board of Zoning Appeals (BZA)
Current Case Numbers - Plan Commission (PC)
Proposed Sagebrook Annexation
An annexation petition has been filed for the Sagebrook subdivision. A copy of the filing can be found here. The timeline and schedule of meetings for the petition is below (schedule is subject to change). If you have any questions please email notices@mccordsville.org or call 317.335.3604. Additionally, if you would like to be put on an email distribution list to receive updates throughout the process please request that by emailing notices@mccordsville.org.
June 11th: Annexation Application Acceptance by Council
July 16, 17, & 18th: Public Info Meetings on Annexations (all 3 meetings begin @ 630pm)
August 13th: Introduction of Annexation Ordinances at the Town Council meeting (7pm)
October 15th: Public Hearing (at Plan Commission) on the proposed Meadows at Sagebrook PUD, and a zoning recommendation (not a hearing) on the Sagebrook zoning (630pm).
October 29th: Public Hearing (at the Town Council) on Annexation Ordinances (5:30pm)
December 10th: Annexation Ordinances & Meadows at Sagebrook PUD eligible for final action (7:00pm)
*All meetings held at the McCordsville Town Hall, located at 6280 W 800N, McCordsville, IN 46142
News


Events


Services


Related
Pages
Contact Us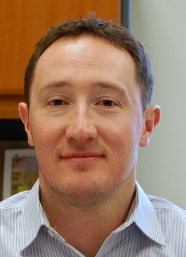 Phone:

(317) 335-3604

Fax:

(317) 335-9120
Office Hours:
8:00 a.m. to 4:00 p.m.
In this Department
In this Department
More Information