Skip over navigation
The official government website for McCordsville, Indiana
Start Content
Next Stop... McCordsville
With a population nearing 7,500 people, our community is now the second largest municipality solely in Hancock County. Incorporated in 1988, McCordsville is beginning to feel the effects of being conveniently located near several thriving cities and towns, including Indianapolis and Fishers.
McCordsville is located in the northwest corner of Hancock County just south of Geist Reservoir, bordering both the City of Lawrence in Marion County and the Town of Fishers in Hamilton County. We are conveniently located off of State Highway 67 and less than 10 minutes from I-70, I-69, I-465 and SR 234.
Sign-up to receive our Friday Email Blast - Friday Email Blast
Contact Us
Town Hall
(
more
)
6280 W 800 N
McCordsville, IN 46055
Office Hours:
8:00 a.m. to 4:00 p.m.
Breaking News
Towns win Local Government Collaboration Award
The Towns of Cumberland, McCordsville and New Palestine were awarded the Local Government Collaboration Award from Accelerating Indiana Municipalities (Aim) for their work on the Urban Land Institute study and other collaborations.

Past Breaking News stories
Town Projects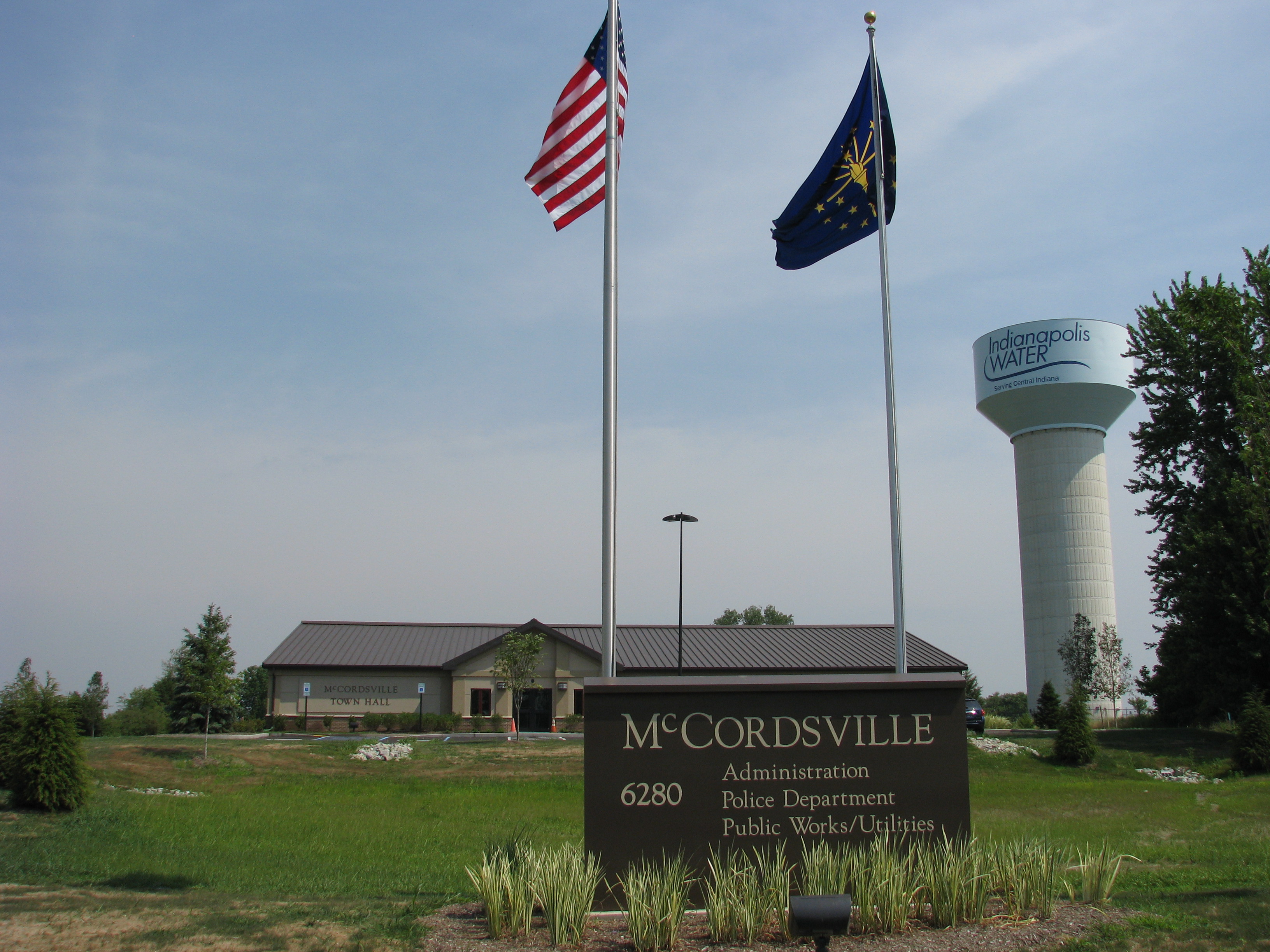 It's an exciting time in McCordsville. Meijer and the Traditions at Brookside Senior Living facility opened in 2017. Traditions at Brookside expanded it's facility in 2018. Scarlet Lane Brewing Company continues to thrive, with the addition of Trax BBQ opening inside the building in November of 2018. Housing construction continues at a fast pace and several new sections of subdivisions have recently been approved. Three recently completed annexations will allow for additional subdivisions to begin construction in 2018 and 2019.


---
Recent News
Committee Interest Application Form

If you are interested in serving on one of our Boards or Commissions, fill out this form and mail it to Tonya Galbraith, 6280 W. 800 N., McCordsville, IN 46055 or email it back to tgalbraith@mccordsville.org.

Growth on Mt. Comfort Corridor

A new study from the Washington D.C.-based Urban Land Institute suggests several opportunities for growth along the Mount Comfort Corridor in Hancock County. The study identifies four "nodes" along the 13-mile stretch that could eventually include t...

2018 Annual Report

The Town Council recently received the 2018 Annual Report. The report provides significant details about the Administration, Public Works, Planning & Building, Engineering and Utility Department.

Mt. Comfort Road Corridor

Follow this link to an article in the Indianapolis Business Journal regarding the Urban Land Institute's visit to the Mt. Comfort Corridor.

Urban Land Institute Presentation

A panel of experts assembled by the Urban Land Institute (ULI) spent five days of focused study of the Mt. Comfort Corridor. The area of study was from McCordsville to Cumberland to New Palestine. The panel presented their findings to a full house o...

More like this
---
Upcoming Events
calendar

More like this